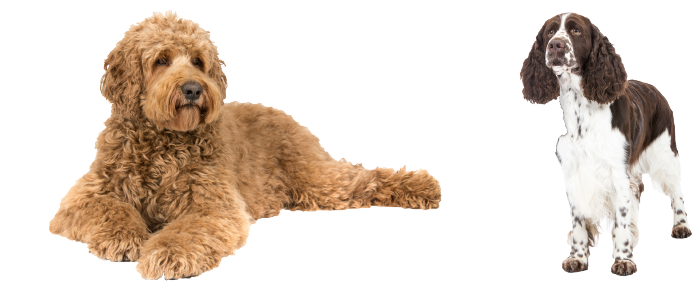 A complete and balanced dietetic pet food for dogs suffering from, or prone to obesity.
ERVD Weight Balance is the first complete and balanced raw dietetic pet food for dogs specifically formulated for adult dogs suffering from overweight and/or a reduced glucose tolerance.
This product has an adjusted composition compared to a standard maintenance raw diet to facilitate the weight loss process in a responsible manner and/or to support blood sugar level control in dogs suffering from diabetes. It meets all characteristics, both legal and scientifical, that are associated with diets formulated for reduction of excess weight and for blood glucose control.
Properties:
Moderate energy and fat contents in support of the weight loss process. Energy content is more than 23% lower than that of All Life Balance, which implies that almost one fourth more of this food may be given to achieve the same energy intake.
Contains a higher content of soluble and insoluble fibers to help provide a prolonged feeling of satiation.
Contains an elevated protein content to reduce the loss of muscle mass during the weight loss process. It has been scientifically proven that the percentage of fat loss versus muscle loss in dogs was higher with a high-protein diet (47.5%) compared to standard protein content (23.8%). The protein content of ERVD Weight Balance is 47% DM basis.
Contains a lower carbohydrate content and selected raw materials with slower degradable carbohydrates (peas, maize) to control blood sugar levels. The starch content is 9% on a DM basis.
Contains added L-carnitine to support fat oxidation. Research has shown that a diet, supplemented with 300 mg/kg L-carnitine on a DM basis, was more effective in supporting weight reduction than the same diet without L-carnitine.7,8 The carnitine content of ERVD Weight Balance is 950 mg/kg DM.
Composition:
Beef 38% (rumen, lung, kidney, heart), chicken 24% (muscle meat, carcass), spinach, peas, rice, corn, cellulose, red beet (dried), chicory pulp (dried), beet pulp (dried), sunflower oil, fish oil, vitamins, minerals, chondroitin sulfate, L-carnitine (0.03%).
Analytical constituents:
Energy 5830 kJ/kg (1390 kcal/kg), Protein 14.8%, Fat content 6.3%, Crude fiber 2.6%, Crude ash 2.3%, Moisture 68.3%, Calcium 0.43%, Phosphorus 0.32%, Starch 2.9%, Total sugar 2.0%.
Nutritional additives per kg:
Vit. A (3a672a) 8,125 I.U., Vit. D3 (3a671) 813 I.U., Vit. E (3a700) 313 mg, Iron (3b103) 63 mg, Iodine (3b202) 0.94 mg, Copper (Copper (II) sulfate (II)) 6.3 mg, Manganese (3b503) 25 mg, Zinc (3b605) 63 mg, Selenium (sodium selenite) 0.19 mg.
Raw Veterinary Diets Weight Balance is guaranteed free of artificial aromatic substances, colouring agents, flavourings or preservatives.
Daily food quantities: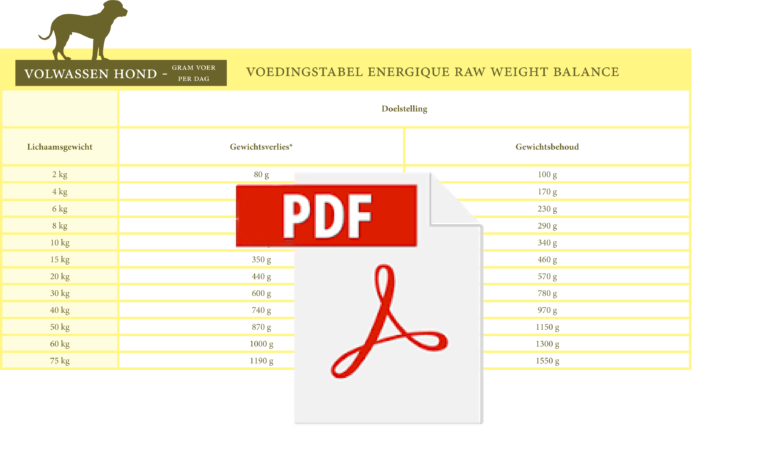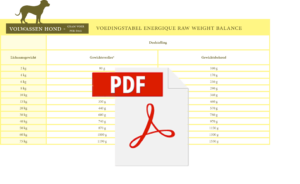 Open the pdf file to consult our extensive feeding schedule.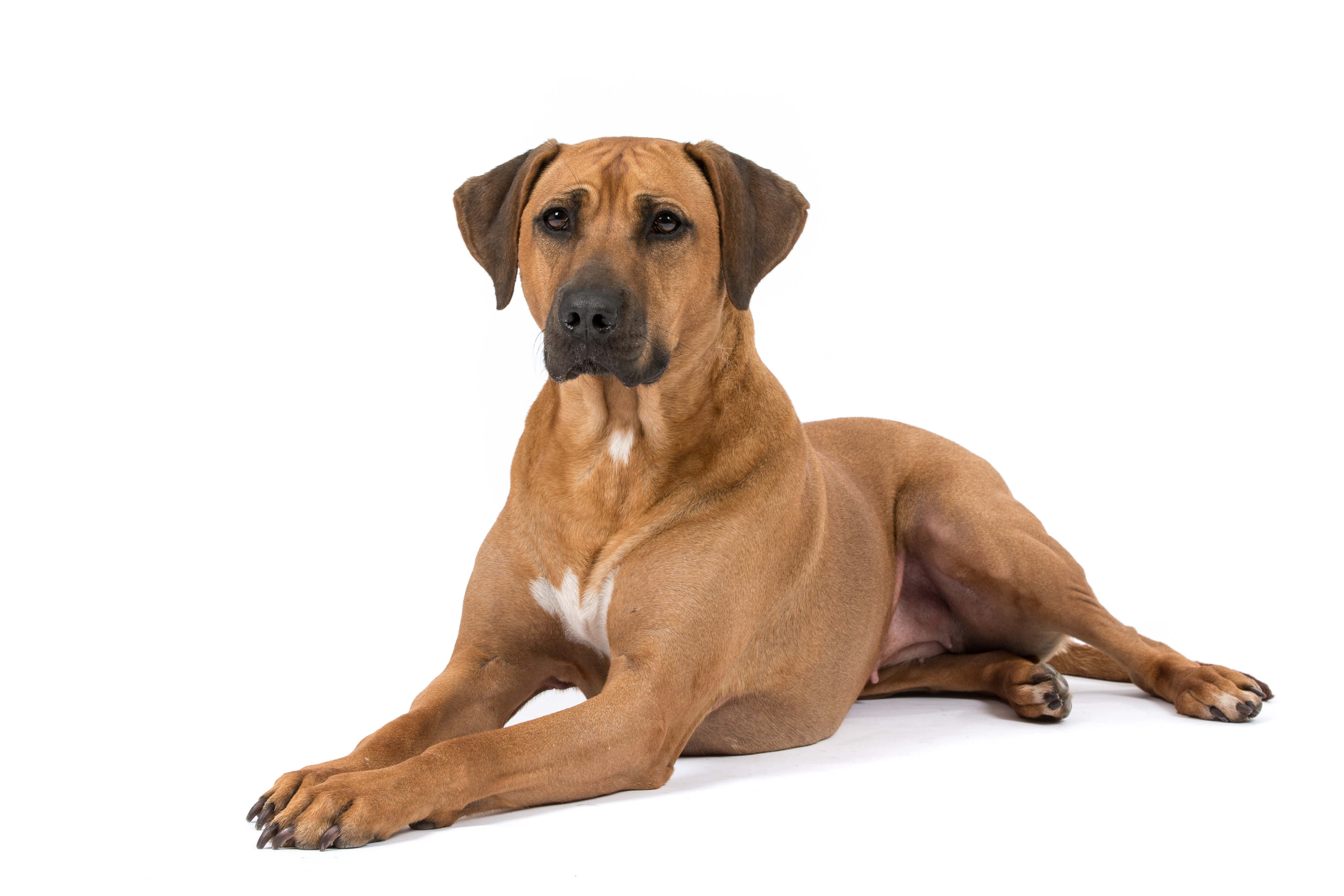 Interessant? Deel of like ons bericht op jouw medium.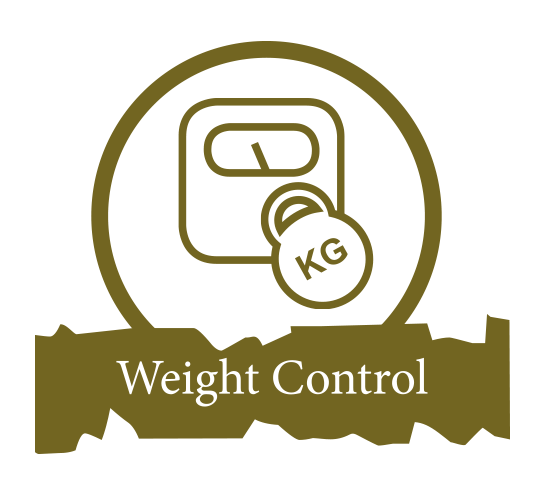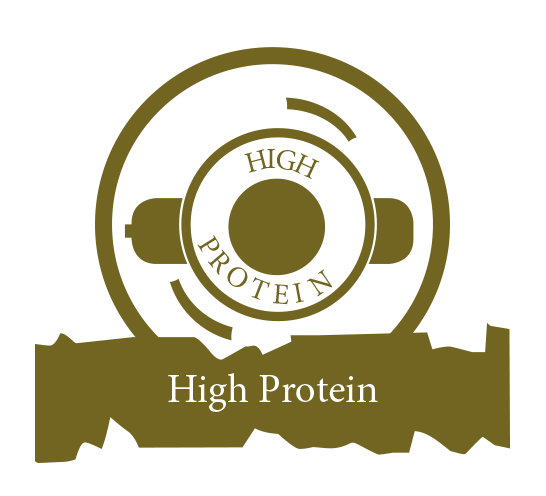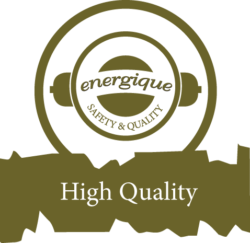 Raw Veterinary Diets are frozen diets and are exclusively available at veterinary clinics.
Ask your vet about the appropriate Raw Veterinary Diet for your dog.