Energique's culture is one that we hold dear; quality comes first. The people who work for Energique all have a boundless passion for dogs and cats. We proudly tell you who we are and what we stand for!
Working from our modern manufacturing plant on the Wetterkant in Gorredijk (the Netherlands), we have been producing a genuinely Dutch quality product for a number of decades. Energique is the only manufacturer of raw meat pet products with both GMP+ and IFS Food* certification. These quality labels require stricter standards in terms of reliability, quality, durability and safety than the legal requirements monitored by the NVWA (Netherlands Food and Consumer Product Safety Authority) or governed by the HACCP standard. However, at Energique we do not settle for mere compliance with a quality label; we only want best-in-class quality and we strive to exceed standards.
*IFS Food is a human food safety certification.
Close to nature
We believe that 'natural' must indeed reflect the true meaning of the word. To Energique this means: following nature as closely as possible. We therefore only use high-quality ingredients, leaving no room whatsoever for compromise. At Energique, we believe that food should be complete and fresh, keeping processing to a bare minimum. We therefore guarantee the integrity of our ingredients; Energique never heats the meat ingredients. Since we feel that each ingredient must serve a purpose, we have chosen to refrain from adding any binding agents, preservatives, chemical anti-oxidants, artificial aromatic substances, colouring agents or flavouring to our food.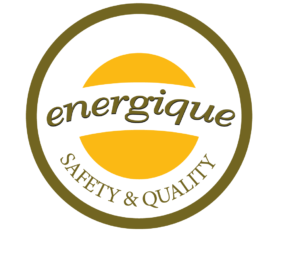 Convincing in terms of quality and safety